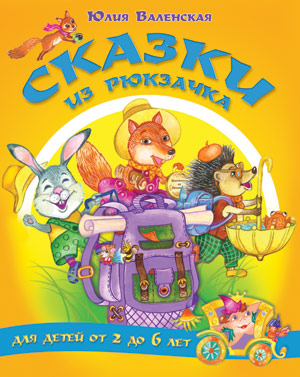 Welcome to the


Backpack Stories!
Dear friends!
"Backpack Stories" is a collection of whimsical fairy tales created for kids from 2 to 6 years old. It is a series of stories that introduce little readers to a magical world of animals and their relationships.
These fun and inspiring stories take little readers on adventures and journeys through the love of nature. I wrote these with the purpose of teaching children the value of friendship, compassion, and appreciating the world's beauty. I hope this book will inspire kids to be creative and open their minds to endless possibilities.
This book was illustrated by a wonderful artist and friend, Nadezhda Chelmakova. Some of the illustrations are done by me.
"Backpack Stories" was recommended by International Academic Expert Department of Russian Academy of Science for publishing. This hard-cover book is 176 pages long. Size: 7.87" x 10.23" (20 cm x 26 cm). The book is available in Russian now and will be translated into English soon.
Enjoy getting lost in the fairy tale wonder world!
Thank you for supporting my dream.

Personalize your copy of the book
In Russia, the book is available for purchasing in local book stores. Readers from other countries can order the book on-line by filling out the contact form.
For USA readers:
The price for the book is $19.99 plus $4.99 shipping/handling (within the USA). The book will be shipped to you within a couple of days of receiving the your order. Please allow enough time for shipping as it will be shipped by UPS ground service.
If you'd like to order a hard-cover book and would like Julia Valenskaya to sign it for your kids as a present, please fill the autograph text at the payment stage. Thank you!